Kain Sherman, left, and Gavin Sidener fish through a hole in the ice on the Gillette Fishing Lake at Dalbey Memorial Park.
Thayne Arnoldi stands in his bedroom at Second Chance Ministries on Wednesday morning. Arnoldi is the first resident to move into the organization's new 11-bed living space. Deputy Director Jeannie Miller says housing is one of the biggest keys to success for folks returning from incarceration, and "to be able to finally meet (that need) is huge."
Laura Chapman works to prime the wall on the side of Rapscalliions Barbershop on the Third Street Plaza where a new mural will cover the cowboy mural Harvey Jackson painted in 1999. The new mural will be painted by Pat McGirr under the direction of AVA Community Art Center instructor Sarah Ferguson, and will feature various small portions painted by local kids.
An armed officer stands on Interstate 95 in St. Paul as police break up a protest on the interstate on June 16, 2017. Protesters shut down the interstate after Jeronimo Yanez was found not guilty of second-degree manslaughter for the killing of Philando Castile in July 2016.
Sturgis Scoopers pitcher Caleb Bates throws a pitch to the Gillette Roughriders Thursday night during the Riders 7-0 season opener at Hladky Memorial Stadium.
Jackson's Rachel Ablondai takes her second of three dives Friday at the Class 3A Girls State Sim and Dive Championship in Gillette. Ablondai came in 1st overall with a score of 303.20.
Gillette senior Jessie Geer drives past Sheridan's Robbie Ryan Friday night during the Camel's 63-51 win over the Broncs at CCHS North Campus.
Nathan Urie, a saddle bronc rider from Ferron, Utah, qualified for his first NHSFR this year as a high school senior.
Chase Thrasher of Columbia, Tennessee, flips his calf during his tie-down roping run Monday morning in the second performance of the National High School Finals Rodeo at Morningside Park on July 18, 2016.
Jim Berman, dressed as Elvis, walks up the stairs at the Heritage Center Theater on Saturday March 1, 2016, after playing a song in the Gillette's Got Talent competition.
A rider leaves the Gillette Veteran's Day parade in downtown Gillette on November 11, 2016.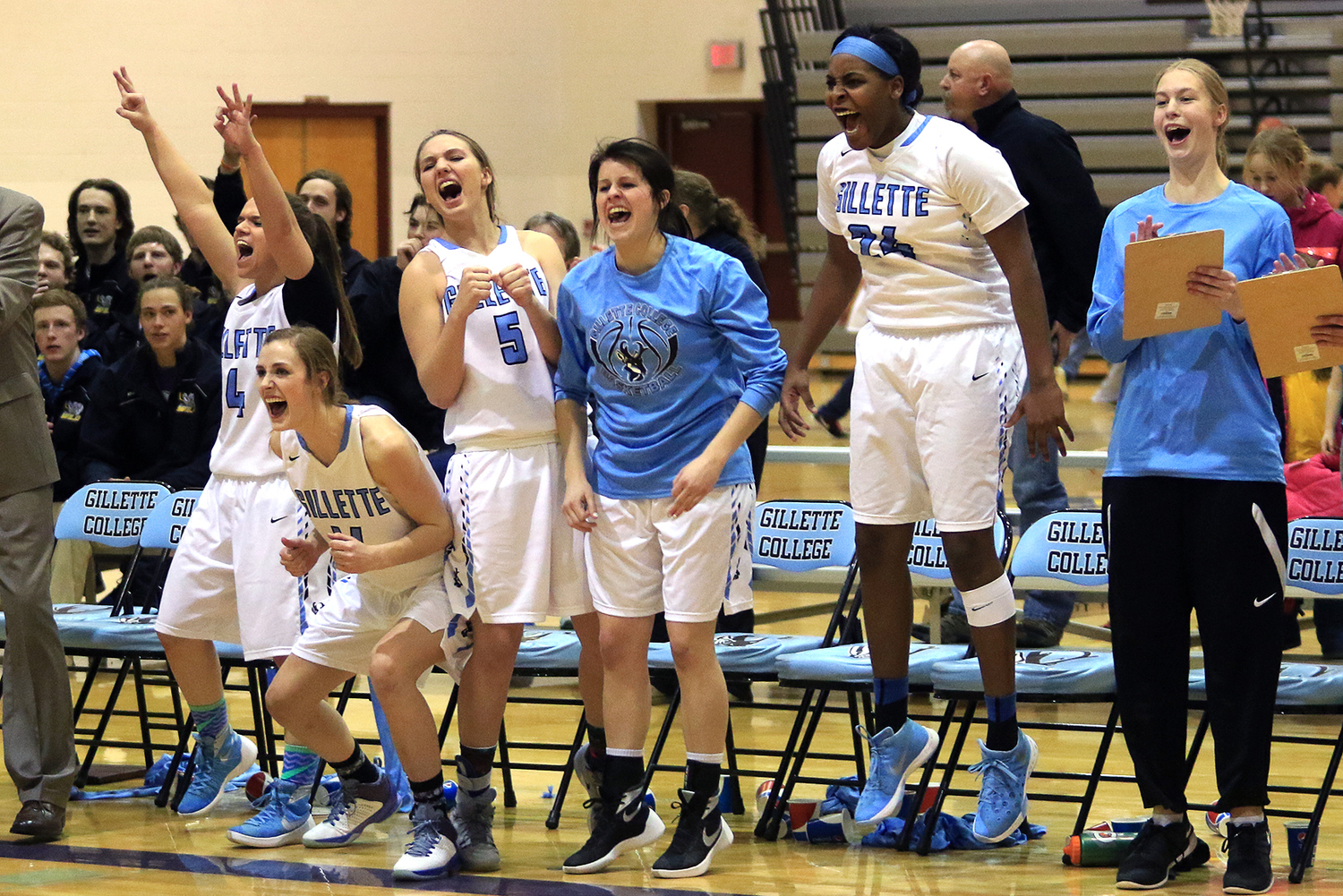 The Pronghorns bench celebrates as Mary Goulding ties the game late in the fourth quarter Wednesday night at CCHS South Campus. The Pronghorns went on to beat the Sheridan Generals 54-51.
Gillette seniors Lauren Hallcroft and Jessie Geer hug after winning the 4A state basketball title, beating Natrona County 84-62, Saturday afternoon at the Casper Events Center in Casper.
Lucas Strawn pulls his 4-year-old son Logan behind him as he snow blows the parking lot of his mom's office on Monday afternoon. According to the National Weather Service Gillette got 2 inches of snow on Monday, and should expect clear skies and temperatures below freezing for the west of the week, with more snow possible Friday night.
A youth hockey player lays on the ice after falling during the 2018 U.S. Pond Hockey Championships on Lake Nokomis on January 25, 2018.
A student at the Crowheart School in Crowheart, Wyoming, jumps off the slider during recess on May 31, 2016. Crowheart is located in Fremont County School District No. 6, which covers 1,300 square miles and contains no licensed day care facilities, medical service providers or private pre-schools.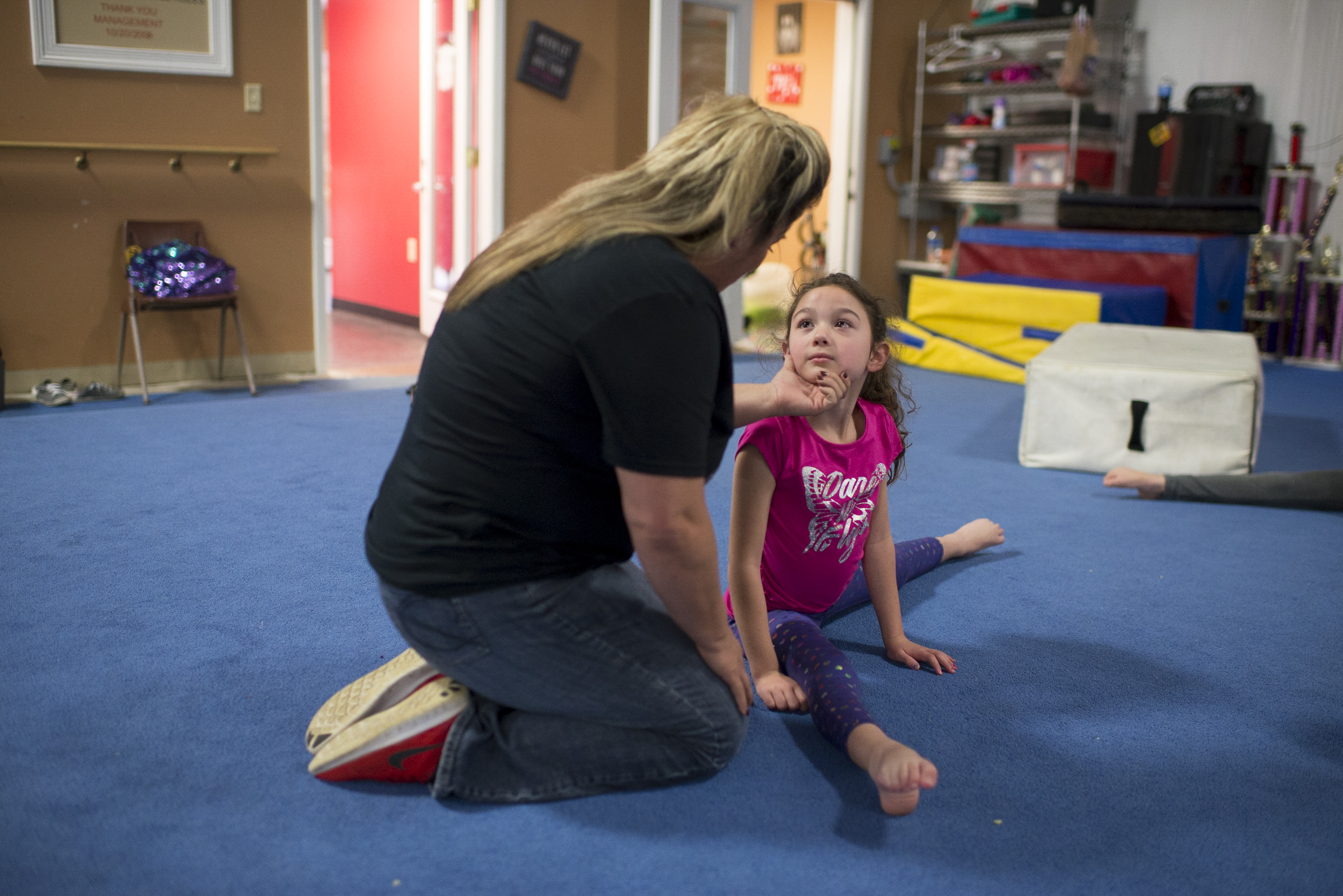 Tammy Lockridge, 44, comforts Gracyn Traylor, 6, during practice at TK's Gymnastics in Mt. Sterling, Kentucky on Tuesday October 23, 2018. Tammy has been teaching gymnastics since she was a teenager and has been running TK's for 16 years. "She loves these kids so much," says Erin Donaldson, a coach at TK's. "She tells 'em she loves 'em all the time."
Campbell County Firefighters work to put out a blaze that destroyed a building at Curry Garage Door on Southern Drive Tuesday evening.
Mike Rogers takes photos of the damage to his house and his RV Friday morning in Freedom Hills East of Gillette. A storm passed over the area at about 8 p.m. Sunday evening and lifted the 12,000 pound trailer off the ground and threw it into the home.
Duncan Davidson, 12, carries a handful of flags while passing them out to bystanders before the Veteran's Day parade on Friday afternoon in downtown Gillette.